Today I'll share my experience of looking for a condo (an apartment) in Toronto. A disclamer: I'll refer to our condo as an apartment just because it sounds more familiar to me.
While we have a temporary place till March 3, we have recently signed a lease to a new place, and we should get the keys on February 17. As a person who has recently moved here from Russia, I still feel that it's all a fraud, but hopefully, this country is more civilized, and a signed lease gives you some guarantees. It's a long read, but I really tried to explain in details how everything works here.
Step 1 - learn about the city
A few weeks before moving to Toronto, we decided to learn a little bit about its neighborhoods.
First, I emailed my friend who moved to Toronto 16 years ago (and we haven't talked much since then). I asked him to divide the city into several zones, where red would show the areas that it's better to avoid, and green would show friendly neighborhoods. And I got the following image from him.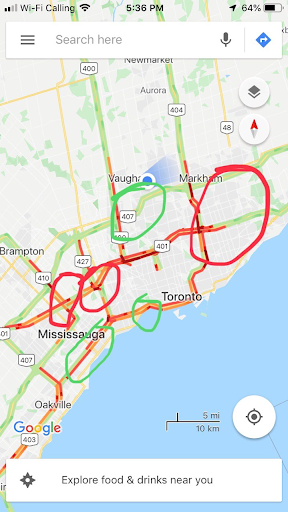 Then we found a video on YouTube about the five best neighborhoods in Toronto where a guy shared details about different areas and whether it's possible to get there without a car. We added all the neighborhoods to Google maps to check them out later when we actually move to Toronto.
I asked about nice neighborhoods in a Russian channel on Telegram about the Tech industry in Canada. They recommended me the following areas: High Park, Humber Bay Shores, Mimico, Roncesvalles, Sunnyside. We also added those places to Google maps.
Step 2 - explore the neighborhoods
Since we only got work permits after a month and a half of being in Canada, we had enough time to check out the city after the quarantine. I was pretty disappointed with Toronto's architecture; the city has many skyscrapers, most of them are high-rise condo-buildings, not even the offices. I once lived in a tall building in St.Petersburg, and I hated it. Of course, condo-buildings here are different: they have a swimming pool, a gym, a concierge service, but living in a high-rise building is rarely a pleasure (at least that's how I feel).
Another essential thing to us was transport accessibility. Like the USA, Canada is a country built for cars, but Toronto is partially covered by the subway. We would gladly buy a car and rent a house somewhere outside of the city, but our license here in Ontario is only valid for the first two months after arrival, and due to COVID-19, driving exams have been canceled. Even when the offices reopen, the queues there are already for six months ahead. Therefore, it was important for us to choose an area so we can comfortably live there without a car.
After we got out of quarantine, we went to explore the areas. At first, we took the subway, but then we realized that it was not a productive way to explore the city. Therefore, we decided to rent a car for a day and go around all the previously marked areas in Google maps.
The very first area that we saw was High Park and everything around it. I really liked it there: low houses, a huge park, shops, restaurants, bars, a subway line. I won't say that the area is close to the downtown, it's about half an hour away from it. And it is unlikely that we will need to go to downtown a lot with offices being closed and everything. Other areas were not that great: some of them had mostly old houses, which we could not rent anyway because it makes no sense and it's too expensive to rent a whole house for two of us; others only had high-rise buildings (for example, Humber Bay Shore); some areas were cozy but difficult to get to without a car (for example, Long Branch). As for Mississauga and Oakville, these are two very nice towns that are located close to Toronto but it seemed inconvenient to live there without a car, even though the variety of places for rent there is huge and housing is cheaper than in the city. My favorite neighborhood was Bridle Path, but we wouldn't be able to rent anything there 🥲. Various celebrities live in that area, for example, Drake (and his house is worth about $100 million CAD). We didn't consider renting a place in downtown because although all the offices, the lake, and other entertainment places are located there, there are still too many homeless people, high-rise buildings, and it's generally uncomfortable to live there if you ask me. After all, downtown in North America and Europe differs a lot.
Step 3 - learn about different types of housing
Toronto is huge and wildly different; you can find completely different types of housing for rent. Here is an overview:
A condo. Usually, a condo is owned by a person, in rare cases by some company. There are two types of condo buildings: high-rise and low-rise. As I wrote above, these buildings also have some amenities, and the apartments, in general, look modern. We decided to rent a place in a high-rise building only if we don't find anything else. But a condo as a type of rental housing was just right for us.
Rental apartments that are located in buildings that are owned by a company. Pros - you don't need to communicate with a landlord if something needs to be fixed; cons - usually, the washer and a dryer are located in those buildings' basement. Also, we heard there might be bedbugs in such buildings. So we decided even not to consider such places, although they are in great demand among people who have just arrived in Canada.
Basements - are my "favorite" type of rental housing here. If you see a house in Toronto, most probably someone lives in a basement there (and it's not a homeless person!). They say homeowners rent out basements to pay for their mortgage, not sure if it's true because often the first and the second floors are also rented out. Even though you'll most likely have a backyard if you rent a basement, it's dark inside, and come on.. it's a basement! We did not consider the basements at all; it still seems to me that it is not very healthy to live there (particularly for the lungs).
The floor in a house or a whole house. Everything is clear here, the landlord will own the place, but since houses are larger than the condos, they'll be more pricy. I always wanted to rent a house, but it didn't fit into the budget at all.
Townhouse. Usually, a townhouse is a detached house and only has neighbours from the side. It's a bit different here; they basically call any apartment in two to three storeys buildings a townhouse. If it is located on the first floor, it most likely has a terrace; if it's located on the last floor, it has an entrance to the roof. The second floor is not that lucky, there is nothing there 🙂. We would definitely rent a townhouse, but they are pretty pricy in the areas where you can get without a car. I haven't seen any decent townhouses for less than $3500 CAD.
Step 4 - prepare to rent a place
When we finally got our documents to stay here in Canada legally, we could start preparations to rent a place. Why do you need to prepare everything in advance? Well, good places are rented out too quickly here, so you need to have all the documents on you by the time you want to actually rent a place. Here is a list of documents for those who come to Canada as a foreign worker:
An employment letter that states the salary. If you don't have it, a valid job offer might also work.
A work permit.
A recommendation letter from a bank (we got one back in Russia).
And the most important thing - you should have enough money in your Canadian bank account. Firstly, to get a statement from a local bank that you have money, and secondly, so that you can make a deposit within 24 hours after signing the contract (I'll talk more about it later).
Some landlords also want to see your SIN, but it's illegal, and you should not do it. A few days after D. got employed here, we opened a bank account, transferred our funds from Russia, and got a check book that could be helpful later for rent payments.
Step 5 - actually rent a place
Finally, when we got all the documents, we could start looking for a place. I should also mention that you can't move out earlier than in a year when you rent a place in Toronto. If you do, you will still have to pay till the end of the lease period anyway. So it was vital for us to find a decent place where we would enjoy living.
Our relocation consultant introduced us to an agent would help us with all the lease related paperwork. You don't have to pay for an agent here, the landlord does it even if you hired an agent.
There are several sites where you can look for an apartment, but the most popular (in my opinion) are realtor.ca and condos.ca. On condos.ca, you can also check the history of a particular apartment. For example, you can find the apartment's price when it was rented out previously. Our agent Aine has also recommented realestate.love app, if you register with this link, Aine will be assigned as your realtor, and she is great!
Even before we moved to Toronto, we decided that we could afford to spend around $2500 CAD on rent. We wanted to rent a 2-bedroom apartment, because now when we work from home, we need a space for home office. They say that during the lockdown, real estate prices in the city have dropped significantly. But in fact, it hit the downtown condos mostly because people no longer need to live near offices, but unfortunately, it did not really affect other areas.
After we checked all of the areas mentioned above, we decided to look at the High Park area and everything around it (Bloor West, Junction, High Park North). But due to the absence of high-rises (which is a pro), there were very few options available for rent (which is a con). I monitored rental sites for about a month (I looked for the sake of interest even before we could rent something) and rarely saw any options there. There are a lot of basements available but no condos. Finally, I saw a charming condo that met all our criteria: a 2-bedroom, low-rise building, bright place with a balcony. The price was $2700 CAD, and it was fine for us (everything that I really liked was above $3000 CAD anyway). We realized that the apartment was nice, the area was excellent (Junction, which is a little further from High Park than we planned, but it was still ok), and we immediately contacted our agent. I want to mention that there was a huge selection of apartments in high-rise buildings, but not so many in low-rise buildings in different areas. In fact, it was the only option that we liked in the whole city.
On Friday night, the landlord's agent agreed to show us the place on Saturday morning. Despite a couple of cons, for example, there are no windows in one bedroom, and there is also no concierge in the house, we really liked the place, and we wanted to rent it badly. Speaking of the bedroom without the windows. It looks like the developers have found a way to trick the system into making a room with a glass sliding door that lets in enough light to be recognized by local regulations as a bedroom. Surprisingly developers here act like in Russia and gain maximum profit from every square meter. The agent also warned us that some other people would also check the place on Sunday, so it would be better to send our offer to the landlord as soon as possible.
Step 6 - survive the bureaucracy
Here is a timeline to clarify how difficult everything is here and how different from the usual renting process in St. Petersburg.
Saturday, 11 am. We checked the place, liked it and decided to rent it.

Saturday, 12 pm. Right after we checked the apartments, we got into the agent's car (all cafes are closed here) and filled out our offer for renting an apartment (OREA Form 410), which our agent later added to Docusign for signing (it's very cool that the entire document flow here can be done online). The landlord will only consider you as a tenant if they receive an offer from you (well, from their agent). In the offer, you need to add all tenants and occupants, your position and company details, previous place of residence, and two contacts in Canada as referrals. We only have one friend in Vancouver, so we added her, and we decided to add a friend from the USA. Although usually, the rent starts on the 1st of the month, our possession date will be February 17. Current tenants occupy the place until February 15, so we decided to rent the apartment right after they leave. Basically, in our offer, we proposed to pay for a year and a few weeks on top and three months of deposits instead of the usual two months (our agent said that since we don't have any credit history in Canada, it might help us to get the place). Then the agent got our documents altogether and emailed them to the landlord's agent along with our offer.

Saturday, 6 pm. We received an email from our agent saying that the other agent didn't want to forward our offer to the landlord. They asked for a confirmation from D.'s company that he was employed there and passed a probation period. And since it was Saturday, they proposed to wait until Monday to get a response from the HR team.

Saturday, 7 pm. D. emailed both HR and the team lead and asked them to confirm his employment ASAP. It was complicated to confirm the probation period, though. He had already passed the probation period in Russia, but since he was a new employee here in Canada, HR were obligated to add another probation period to the contract. Moreover, that agent shouldn't even ask about the probation period since it's a piece of confidential information. Our agent just assumed that the landlord's agent didn't want to do any paperwork on the weekend.

Sunday, 7 pm. Our agent told us that other people who also checked the condo made an offer, and she assumed that they offered $2800 CAD. We got really sad, but the agent said it was a typical situation in Toronto, and, if we wanted, we could raise our offer to $2900 CAD. She said that $2900 CAD was the initial price for that place before COVID, and it really might help. We rechecked the real estate websites, realized there was nothing new, and decided to go with a new price (although, as I previously mentioned, our initial limit was $2500 CAD). We were also worried that the landlord's agent wouldn't even forward our offer to the landlord, but our agent assured us that they were obligated by law to forward all offers they received.

Monday, 3 pm. The landlord chose us! We were thrilled that our (mine) misery during the weekend was not in vain (well, as usual, I didn't sleep and didn't eat well). Our agent immediately warned us that when the landlord signs the offer, the apartment is "frozen" on the market; roughly speaking, they have no right to show or lease it to anyone. Then the most interesting thing began - they sent us a 20 pages contract, we signed it. And then, the landlord's agent added an appendix B to the contract, yet another 20 pages long. As our agent said, everything in the add-on looked like we were renting a house, not a condo, i.e., they wanted to add as much as possible into the contract to keep themselves safe (I can understand it, but some things were just crazy). Some statements were completely contrary to the law of the state of Ontario, which means they had no legal value. For example, it stated that no pets were allowed in the apartment (we don't have any pets, though). Well, everyone in Ontario is allowed to have pets; in fact, a gorgeous kitty lives in this apartment at the moment 😸.

Another "cool" thing was about the carpet. "The Tenant agrees to employ carpets for frequent walking areas in order to prevent noise distribution and floor deterioration." Our agent told us that this part usually applies to the houses, but not to the condos. Generally, we wanted to remove some statements from the contract, but then we learned how it works. We can either accept the contract and sign as is or reject and ask to send a new contract with the desired changes. But, if you reject the current contract (i.e., just ask to change any statements there), the apartment is again open to the market, and at that moment, someone can make another offer, which may be better than ours, and in this case, we would lose our apartment. So we agreed with everything and signed the contract as is.

After both parties have signed the contract, you as a tenant have one working day to make a deposit. The apartment is considered to be leased the moment the landlord's brokerage receives the deposit. The deposit does not go directly to the landlord to protect all parties from fraud.

On Tuesday morning, we went to the bank to make a deposit. We had two options:

To electronically wire the funds, but this option costs an additional $17.50 CAD;
To deliver a bank draft in person to the bank, which is free. We chose this option, went to our bank, got a check, made a picture of it (in case the other bank loses it, yes, it happens!), and delivered the check to another bank.

On Tuesday afternoon, we sent the picture of the check to our agent, and after a few hours got an update that the brokerage received our deposit. At that moment, we officially rented that condo!
Hurray, now we need to wait for February 17 and get the keys. Not yet :)
Step 7 - do a million more things to get the keys to the apartment
After our agent congratulated us on a successful deal (she knew how we were worried and periodically called me to find out how I felt 🥲), we received an email from our relocation consultant with the next steps. In order for the landlord to give us the keys, we had to do a few more things.
Purchase tenant's insurance. We called different companies for a quote but then learned that D's company provides a TD Insurance discount. We had to add liability coverage for $1 000 000 CAD based on our lease, and we also added some water damage coverage. After the discount, the final price was $405 CAD, including tax.
We had to move the electricity and water account over to our names. That was easy; we just registered on the website which our consultant has provided us with. Starting from February 17, we will have access to our account.
Contact our landlord regarding the payment method. We had two options again:

Email transfer. We preferred this option, but RBC has a $2500 CAD limit per day for any transfers, and it's not enough for us.
Post-dated checks. So we chose this option since we also already got the checks when we opened an account.

Prepare a personal check for $300 CAD refundable key deposit (yes, if we lose our keys, we would have to pay $300 CAD for it).
And my favorite part is that we have to reserve an elevator for our move with building management (it's just something very new to us!).
An epilogue
If you have read up to this point, my congratulations to you 😂🥳. I'm thrilled that we managed to rent the apartment that we liked and in the area where we wanted to live. The only thing we absolutely forgot to do was to check if there were any shelters in the area. There are many mentally sick homeless people in Toronto, I don't want to interact with them, and having a shelter nearby means they will continuously hang around. I just remembered this yesterday and discovered that there is the second-largest shelter in Toronto for homeless women not far from the condo building. I was very upset, but let's hope that everything will be fine there because after all the area is still considered quite nice and even trendy 😏.
I also want to say that I honestly admire those who come to Canada without work and any help. I can say that the consultant helps a lot by telling us what to do and when. When you first come across such an ordinary situation as renting an apartment, you get a little crazy about everything that needs to be done in a new country. I immediately remembered how we moved out of our apartment in St. Petersburg. We told our landlord about us leaving two weeks before we moved out. We told her that our friends wanted to move in, introduced them, and they paid us the deposit that she owned us, not to bother the landlord once again. Haha, here they probably only write about it in fairy tales.
I still have the feeling that it's all scam before we actually get the keys. Oh, I need to get rid of this post-Russian habit of seeing a fraud everywhere or at least relax for a while.